Description
The Sword and the Slime is a non traditional puzzle-platformer where the player, using only the mouse, controls a magical flying sword on a quest through deep dungeons and enchanted forests. The player must use the sword to directly and indirectly influence the environment in order to overcome obstacles and solve puzzles. While this mostly involves hacking things up with the sword, violence doesn't solve everything. You'll have to think outside the box and work with an unconventional and slimy ally.
History
Since 2016, we have been working on this game in our spare time adding bits here and there, experimenting and tweaking as we go. A we refined the core game the team has grown with the game in order to meet its need for further design and development, event support, marketing and promotion, and music. The Sword and the Slime is truly a passion project that has been pulled together over countless nights and weekends. Together we look forward to bringing you our silly slimy little game.
Features
Use only the mouse to move and attack
Explore fantastical ruins, deep dungeons, and enchanted forests
Utilize your slime friend to help solve level puzzles
Logo & Icon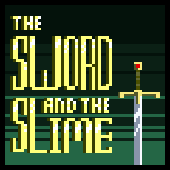 About Possum House Games
Boilerplate

Possum House is an indie development studio that focuses on small titles with experimental and fresh mechanics. With each game we try to introduce something novel and unique that players haven't seen before. We want to be a sustainable and experimental team that puts the medium first, allowing us to develop unique titles. Less is more is our approach. Aesthetics > graphics. Simple mechanics arranged in original ways.

More information

More information on Possum House Games, our logo & relevant media are available here.
The Sword and the Slime Credits
Dennis McCory

Nate Moore

Programmer, Level Designer, Collaborator

Fran Chang

Theo C.A. "Changreu"

Nicholas Basch

Nick Heigl
Contact
Inquiries

Twitter

Facebook

Instagram

Web